---
Lunch: Blueberry Orange Buddha Bowl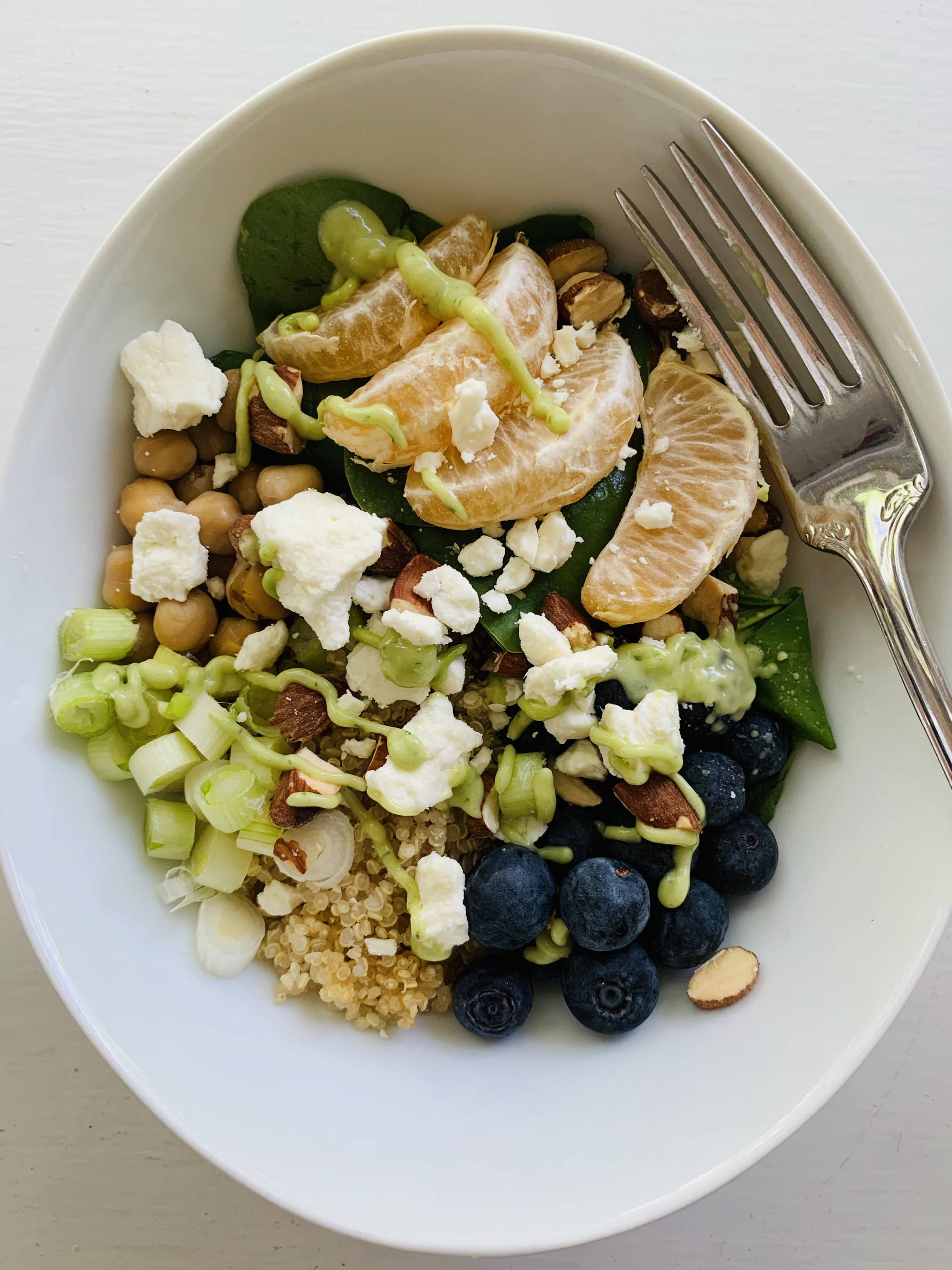 2 Cups Spinach
1/2 Cup Quinoa, uncooked
1 Cup Water
1/3 (14.5 oz) Can Chickpeas
1/2 Cup Blueberries
2 Mandarin Oranges, peeled and broken into sections
2 Green Onions
2 Tbsp Almonds, chopped
2 Tbsp Feta, crumbled
4 Cups Spinach
1 Cup Quinoa, uncooked
2 Cups Water
2/3 (14.5 oz) Can Chickpeas
1 Cup Blueberries
4 Mandarin Oranges, peeled and broken into sections
4 Green Onions, chopped
4 Tbsp Almonds, chopped
4 Tbsp Feta Cheese, crumbled
6 Cups Spinach
1 ½ Cups Quinoa, uncooked
3 Cups Water
1 (14.5 oz) Can Chickpeas
1 ½ Cups Blueberries
6 Mandarin Oranges, peeled and broken into sections
6 Green Onions
6 Tbsp Almonds, chopped
6 Tbsp Feta, crumbled
Directions
Cook quinoa according to package instructions
In 6 bowls, layer ingredients, beginning with spinach and ending with almonds and feta
Top with dressing (Store bought dressing can be used, but homemade recipe below)
1/4 Avocado
1/2 Cup Greek Yogurt
Juice of ½ Lime
1/2 Clove Garlic, minced
1/8 Cup Cilantro
1 1/2 Tbsp Extra Virgin Olive Oil
Salt and Pepper to Taste
1/2 Avocado
1 Cup Greek Yogurt
Juice of 1 Lime
1 Clove Garlic, minced
1/4 Cup Cilantro
3 Tbsp Extra Virgin Olive Oil
Salt and Pepper to Taste
3/4 Avocado
1 1/2 Cups Greek Yogurt
Juice of 1 ½ Limes
1 1/2 Clove Garlic, minced
1/3 Cup Cilantro
4 1/2 Tbsp Extra Virgin Olive Oil
Salt and Pepper to Taste
Directions
1. Put all ingredients into a blender and blend until smooth
---
Dinner: Chicken Stuffed Bell Peppers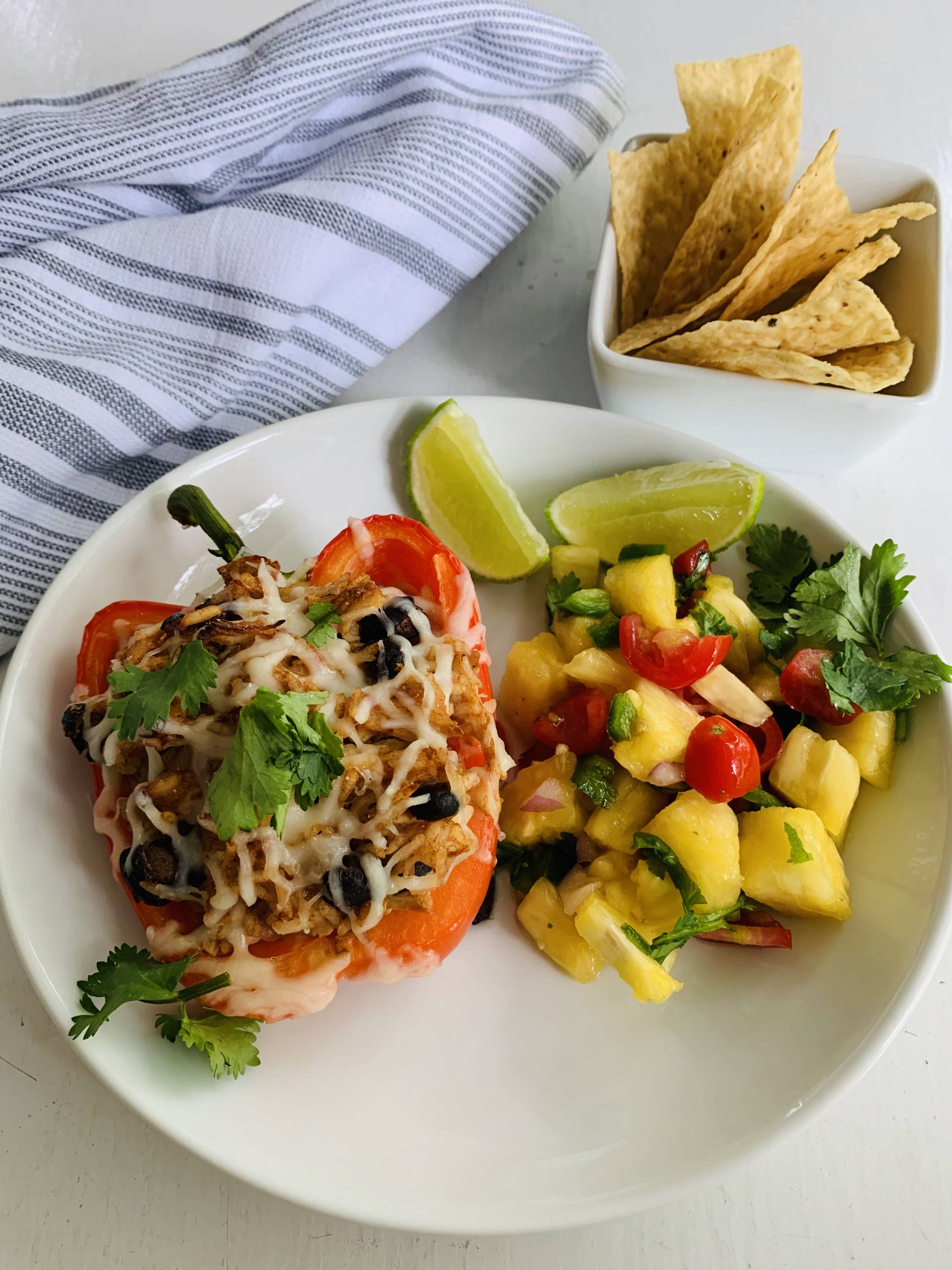 1/2 Lb Boneless, Skinless Chicken Breast Tenderloins
1 Bell Pepper
1/2 Tbsp Homemade Taco Seasoning- Recipe Below (Store Bought Can Be Used)
1 Tbsp Extra Virgin Olive Oil
Juice from ¼ Lime
1/8 Red Onion, finely diced
1/2 Cup Cooked Jasmine or Basmati Rice
1/4 Cup Canned Black Beans, rinsed and drained
2 oz Tomato Sauce
1/4 Cup Shredded Mexican Blend or Mozzarella Cheese
Cilantro for garnish, optional
1 Lb Boneless, Skinless Chicken Breast Tenderloins
2 Bell Peppers
1 Tbsp Homemade Taco Seasoning-Recipe Below (Store Bought Can Be Used)
2 Tbsp Extra Virgin Olive Oil
Juice from ½ Lime
1/4 Red Onion, finely diced
1 Cup Cooked Jasmine or Basmati Rice
½ Cup Canned Black Beans, rinsed and drained
4 oz Tomato Sauce
½ Cup Shredded Mexican Blend or Mozzarella Cheese
Cilantro for garnish, optional
1 1/2 Lb Boneless, Skinless Chicken Breast Tenderloins
3 Bell Peppers
1 1/2 Tbsp Homemade Taco Seasoning- Recipe Below(Store Bought Can Be Used)
3 Tbsp Extra Virgin Olive Oil
Juice from 3/4 Lime
1/3 Red Onion, finely diced
1 1/2 Cup Cooked Jasmine or Basmati Rice
3/4 Cup Canned Black Beans, rinsed and drained
6 oz Tomato Sauce
3/4 Cup Shredded Mexican Blend or Mozzarella Cheese
Cilantro for garnish, optional
1. Preheat oven to 350 Degrees
2. Spray baking dish with cooking spray
3. In a small bowl, mix together 1 Tbsp olive oil, taco seasoning and lime juice3.
4. Pour over chicken and marinate in the refrigerator for at least 15 minutes
5. While chicken is marinating, rinse peppers, slice in half and remove seeds
6. Cook rice and set aside
7. Heat 1 Tbsp of olive oil on medium-medium high heat and add chicken
8. Cook chicken for approx. 6 minutes, turning once halfway through
9. Add onions and cook for 2 more minutes stirring often
10. Remove chicken from heat, cut into bite sized pieces and put into a large bowl.
11. Add all other ingredients to chicken mixture, reserving ¼ cup of cheese
12. Stuff each pepper half with chicken mixture
13. Bake for approx. 20 minutes, remove from oven, add remaining cheese to the top and return to oven for about 15 minutes
14. Garnish w/ cilantro
1/2 Tbsp Chili Powder
1/2 Tbsp Cumin
1/2 tsp Paprika
1/2 tsp Salt
1/4 tsp Garlic Powder
1/4 tsp Onion Powder
1/4 tsp Oregano
1/4 tsp Black Pepper
1Tbsp Chili Powder
1 Tbsp Cumin
1 tsp Paprika
1 tsp Salt
½ tsp Garlic Powder
½ tsp Onion Powder
½ tsp Oregano
½ tsp Black Pepper
1 1/2 Tbsp Chili Powder
1 1/2 Tbsp Cumin
1 1/2 tsp Paprika
1 1/2 tsp Salt
3/4 tsp Garlic Powder
3/4 tsp Onion Powder
3/4 tsp Oregano
3/4 tsp Black Pepper
1. Put all ingredients into a small container with a lid and shake until mixed
2/3 Cups Fresh Pineapple (canned can be used), diced
2/3 Cups Grape or Cherry Tomatoes, quartered
1/8 Cup Red Onion, finely diced
1/3 Jalapeño, seeded and finely diced
1/8 Cup Cilantro, chopped
Juice of One Lime
Salt to Taste
1 1/3 Cups Fresh Pineapple (canned can be used), diced
1 1/3 Cups Grape or Cherry Tomatoes, quartered
1/3 Cup Red Onion, finely diced
2/3 Jalapeño, seeded and finely diced
1/3 Cup Cilantro, chopped
Juice of One Lime
Salt to Taste
2 Cups Fresh Pineapple (canned can be used), diced
2 Cups Grape or Cherry Tomatoes, quartered
½ Cup Red Onion, finely diced
1 Jalapeño, seeded and finely diced
½ Cup Cilantro, chopped
Juice of One Lime
Salt to Taste
1. Gently mix all ingredients together