---
Lunch: Veggie Quesadillas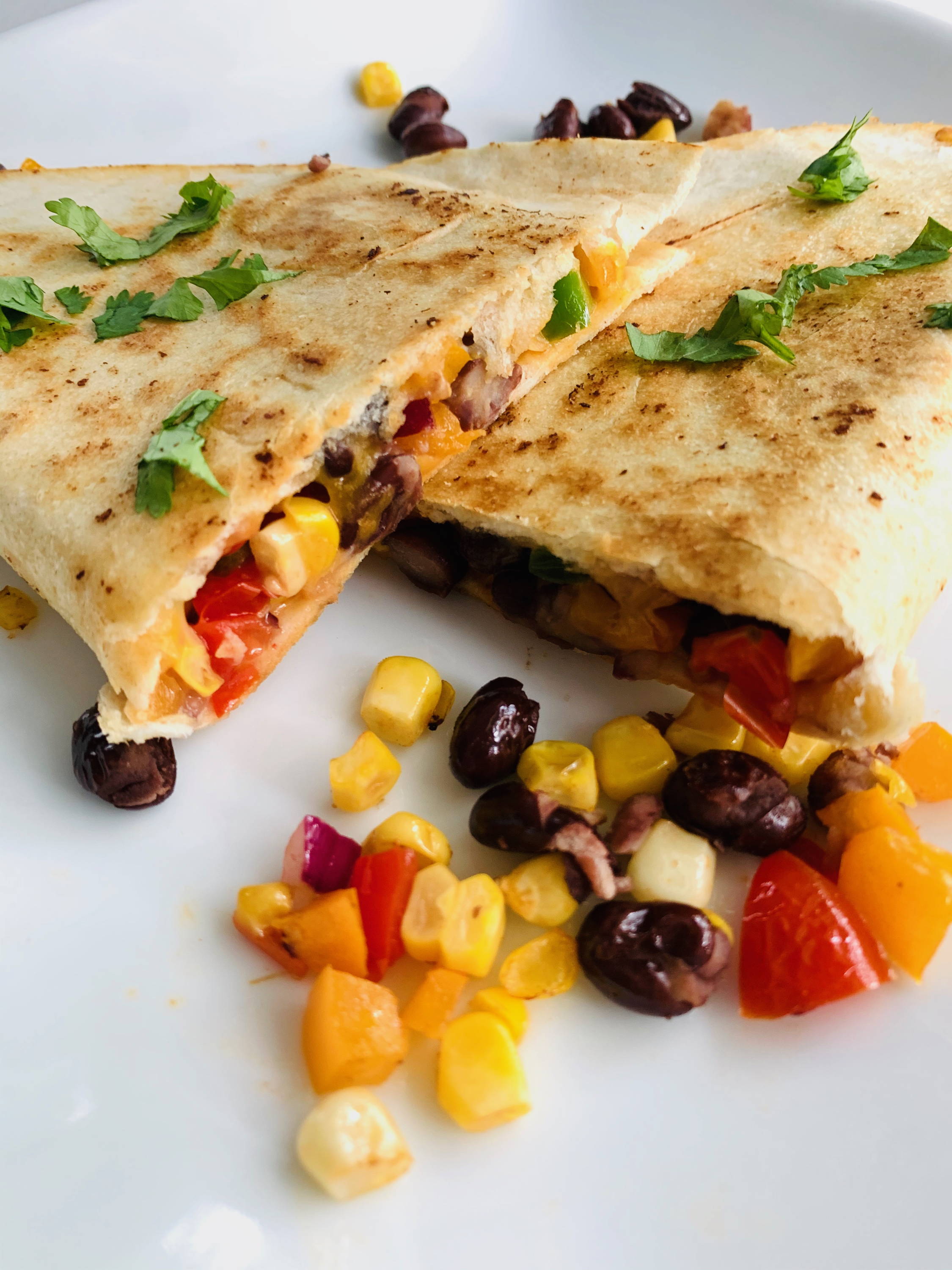 2 Tortillas, medium sized
½ Cup Shredded Mexican Cheese Blend
¼ Cup Canned Black Beans, rinsed and drained
¼ Cup Bell Pepper, diced
⅛ Cup Onion, finely diced
¼ Cup Tomato, finely diced
¼ Cup Canned Corn, rinsed and drained
½ Jalapeño, seeded and finely diced
Cooking Spray
4 Tortillas, medium sized
1 Cup Shredded Mexican Cheese Blend
1/2 Cup Canned Black Beans, rinsed and drained
1/2 Cup Bell Pepper, diced
1/4 Cup Onion, finely diced
1/2 Cup Tomato, finely diced
1/2 Cup Canned Corn, rinsed and drained
1 Jalapeño, seeded and finely diced
Cooking Spray
6 Tortillas, medium sized
1 1/2 Cups Shredded Mexican Cheese Blend
3/4 Cup Canned Black Beans, rinsed and drained
3/4 Cup Bell Pepper, diced
1/3 Cup Onion, finely diced
3/4 Cup Tomato, finely diced
3/4 Cup Canned Corn, rinsed and drained
1 1/2 Jalapeños, seeded and finely diced
Cooking Spray
1. Spray a skillet with cooking spray.  
2. On the tortillas, layer the ingredients equally, beginning with the cheese.  
3. Fold each tortilla in half.
4. Heat the skillet on med heat and put the tortillas into the skillet, cooking until first side is golden brown. Flip to other side and continue cooking until golden.  
5. Remove from pan.
---
Dinner: Bacon and Prosciutto Naan Pizza w/ Honey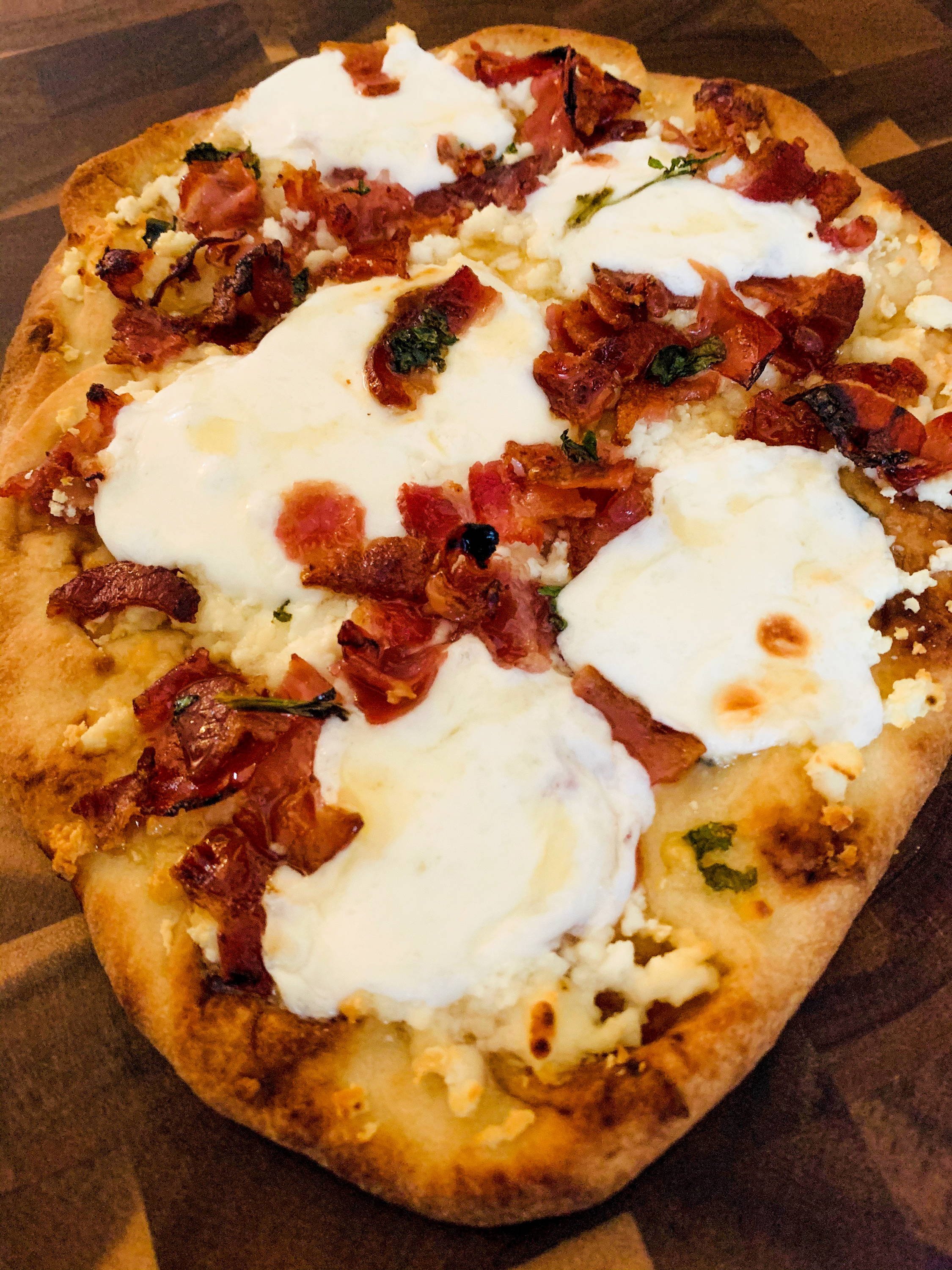 2 Naan Pizza Crusts
4 Slices Bacon, cooked and crumbled
2 Strips Prosciutto, chopped
2 oz Goat Cheese
8 Slices Fresh Mozzarella
2 Tbsp Honey
4 Naan Pizza Crusts
8 Slices Bacon, cooked and crumbled
4 Strips Prosciutto, chopped
4 oz Goat Cheese
16 Slices Fresh Mozzarella
4 Tbsp Honey
6 Naan Pizza Crusts
12 Slices Bacon, cooked and crumbled
6 Strips Prosciutto, chopped
6 oz Goat Cheese
24 Slices Fresh Mozzarella
6 Tbsp Honey
1. Preheat oven to 425 degrees.  
2. In a skillet, cook bacon on medium heat until it begins to crisp, about 6-8 minutes, turning occasionally. Remove from heat and drain the bacon on paper towels. Once cooled, crumble.  
3. Spread 1 oz goat cheese onto each crust.  
4. Top each pizza evenly with bacon, prosciutto and mozzarella.  
5. Top mozzarella with remaining bacon and prosciutto and drizzle with 1 Tbsp honey.
6. Bake for 12 minutes or until mozzarella has begun to melt and is golden.  
7. Once out of the oven drizzle with just a little more honey (about 1 tsp) for additional flavor.