---
Lunch: Lunch
Quinoa Blackbean Salad

1 Cup Water
1/2 Cup Quinoa
1/2 (14.5 oz) Can Black Beans
½ Avocado, seeded, peeled and diced
1/8 Cup Red Onion, diced
6 Grape Tomatoes, halved
1/8 Cup Cilantro, chopped
Juice of 1 Lime
1 Tbsp Extra Virgin Olive Oil
2 Cups Water
1 Cup Quinoa
1 (14.5 oz) Can Black Beans
1 Avocado, seeded, peeled and diced
¼ Cup Red Onion, diced
12 Grape Tomatoes, halved
¼ Cup Cilantro, chopped
Juice of 1 Lime
2 Tbsp Extra Virgin Olive Oil
3 Cups Water
1 1/2 Cup Quinoa
1 1/2 (14.5 oz) Can Black Beans
1 ½ Avocados, seeded, peeled and diced
1/3 Cup Red Onion, diced
18 Grape Tomatoes, halved
1/3 Cup Cilantro, chopped
Juice of 1 Lime
3 Tbsp Extra Virgin Olive Oil
---
Dinner: Italian Chicken and Veggie Foil Packs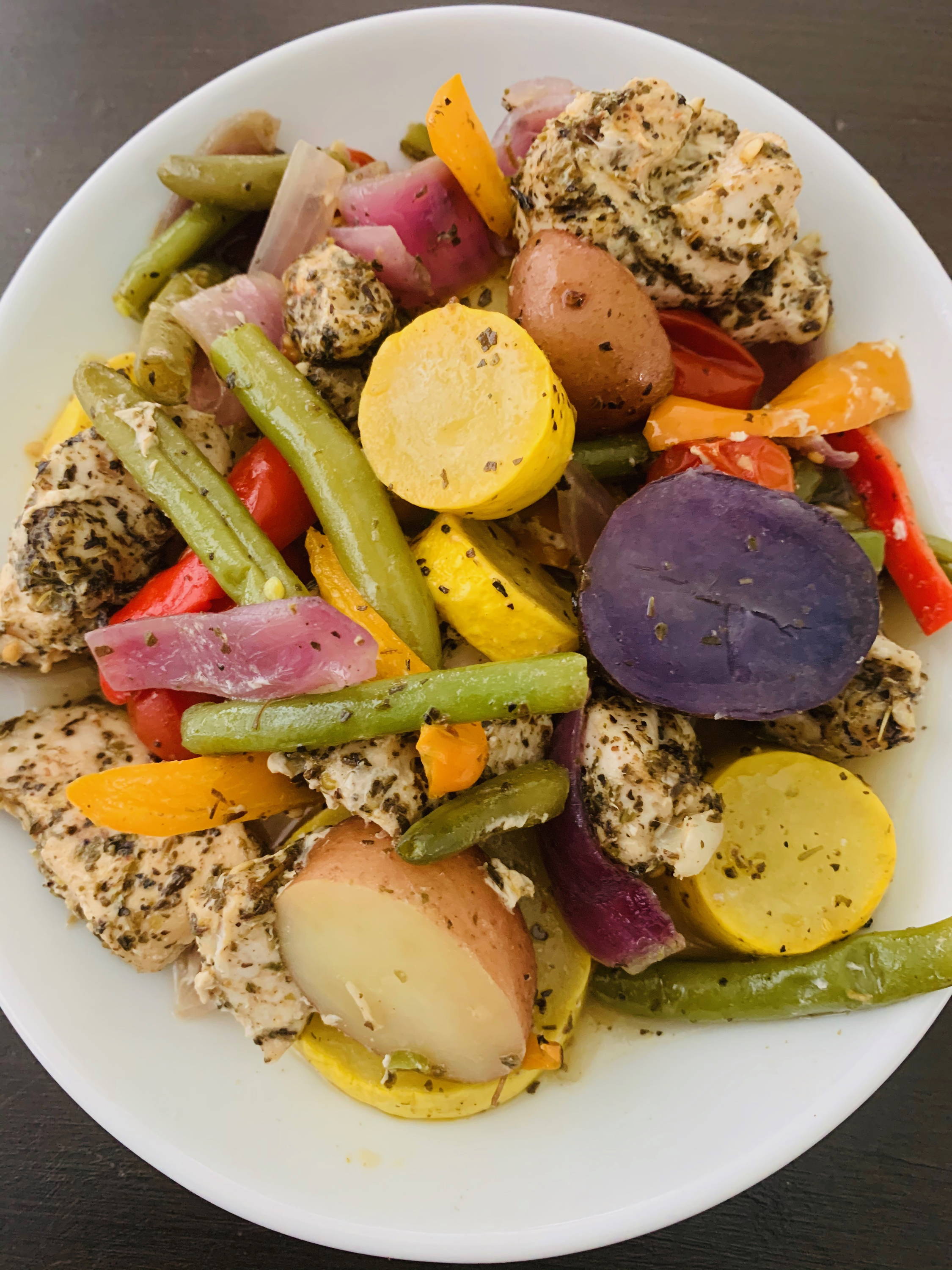 4 Chicken Tenderloins (about 1/2 lb), cut into chunks
1 ½ Cups Fresh Green Beans
1 Cup Bell Pepper, chopped
1 Small Yellow Squash, sliced
½ Cup Red Onion, chopped
½ Cup Baby Carrots
1 Cup Baby Potatoes, halved
2 Tbsp Extra Virgin Olive Oil
1 Tbsp Italian Seasoning
1 Clove Garlic, minced
Salt and Ground Black Pepper to Taste
8 Chicken Tenderloins (about 1 lb), cut into chunks
3 Cups Fresh Green Beans
2 Cups Bell Pepper, chopped
2 Small Yellow Squash, sliced
1 Cup Red Onion, chopped
1 Cup Baby Carrots
2 Cups Baby Potatoes, halved
4 Tbsp Extra Virgin Olive Oil
2 Tbsp Italian Seasoning
2 Cloves Garlic, minced
Salt and Ground Black Pepper to Taste
12 Chicken Tenderloins (about 1 ½ lb), cut into chunks
4 1/2 Cups Fresh Green Beans
3 Cups Bell Pepper, chopped
3 Small Yellow Squash, sliced
1 1/2 Cups Red Onion, chopped
1 1/2 Cups Baby Carrots
3 Cups Baby Potatoes, halved
6 Tbsp Extra Virgin Olive Oil
3 Tbsp Italian Seasoning
3 Cloves Garlic, minced
Salt and Ground Black Pepper to Taste
1. Preheat oven to 400 degrees.
2. In a small bowl, whisk together olive oil, Italian seasoning, garlic, salt and ground black pepper.
3. In a large bowl, combine all veggies. Pour olive oil mixture over them and toss to coat.
4. Lay out enough 12x12 squares of aluminum foil for the number of servings.
5. Evenly divide mixture onto each foil sheet and fold each one up and fold to tightly seal.
6. Place packets on a sheet pan and bake for 20 minutes or until chicken is cooked through.