---
Lunch: Rotisserie Chicken Tortillas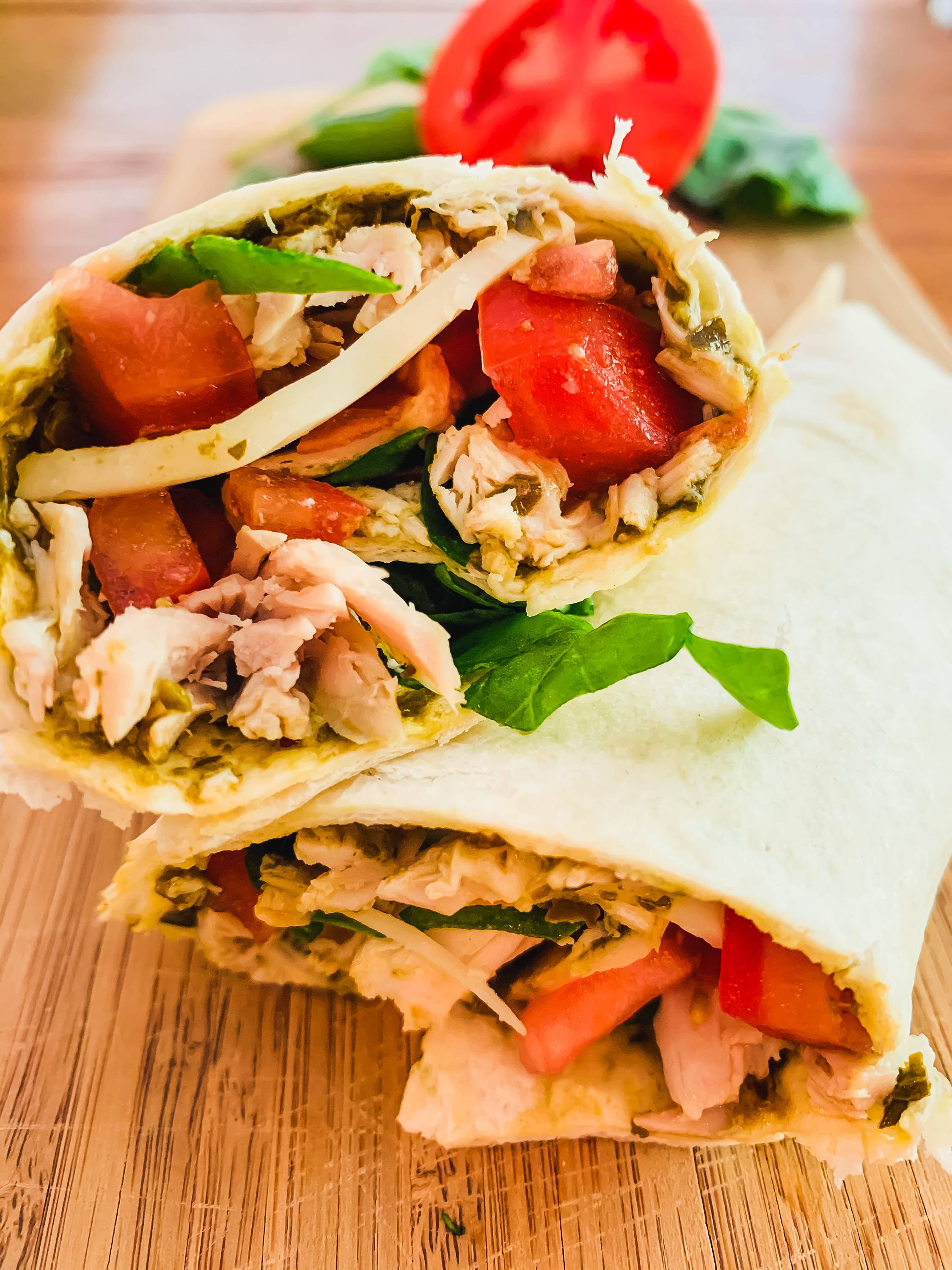 2 Tortillas
2 Tbsp Pesto
1 Cup Rotisserie Chicken, chopped
2 Slices Provolone Cheese, halved
½ Cup Spinach, chopped
1 Roma Tomato, diced
4 Tortillas
4 Tbsp Pesto
2 Cup Rotisserie Chicken, chopped
4 Slices Provolone Cheese, halved
1 Cup Spinach, chopped
2 Roma Tomatoes, diced
6 Tortillas
6 Tbsp Pesto
3 Cup Rotisserie Chicken, chopped
6 Slices Provolone Cheese, halved
1 1/2 Cups Spinach, chopped
3 Roma Tomatoes, diced
1. Spread 1 Tbsp pesto on one side of each tortilla.
2. Layer ingredients evenly in the follow order:
a. Chicken
b. Spinach
c. Tomatoes
3. Cheese, half each slice and lay 2 halves lengthwise across tortilla.
4. Roll up tortilla tightly.  
---
Dinner: Bacon and Prosciutto Naan Pizza w/ Honey

2 Naan Pizza Crusts
4 Slices Bacon, cooked and crumbled
2 Strips Prosciutto, chopped
2 oz Goat Cheese
8 Slices Fresh Mozzarella
2 Tbsp Honey
4 Naan Pizza Crusts
8 Slices Bacon, cooked and crumbled
4 Strips Prosciutto, chopped
4 oz Goat Cheese
16 Slices Fresh Mozzarella
4 Tbsp Honey
6 Naan Pizza Crusts
12 Slices Bacon, cooked and crumbled
6 Strips Prosciutto, chopped
6 oz Goat Cheese
24 Slices Fresh Mozzarella
6 Tbsp Honey
1. Preheat oven to 425 degrees.
2. In a skillet, cook bacon on medium heat until it begins to crisp, about 6-8 minutes, turning occasionally. Remove from heat and drain the bacon on paper towels. Once cooled, crumble.
3. Spread 1 oz goat cheese onto each crust.
4. Top each pizza evenly with bacon, prosciutto and mozzarella.  
5. Top mozzarella with remaining bacon and prosciutto and drizzle with 1 Tbsp honey.
6. Bake for 12 minutes or until mozzarella has begun to melt and is golden.
7. Once out of the oven drizzle with just a little more honey (about 1 tsp) for additional flavor.